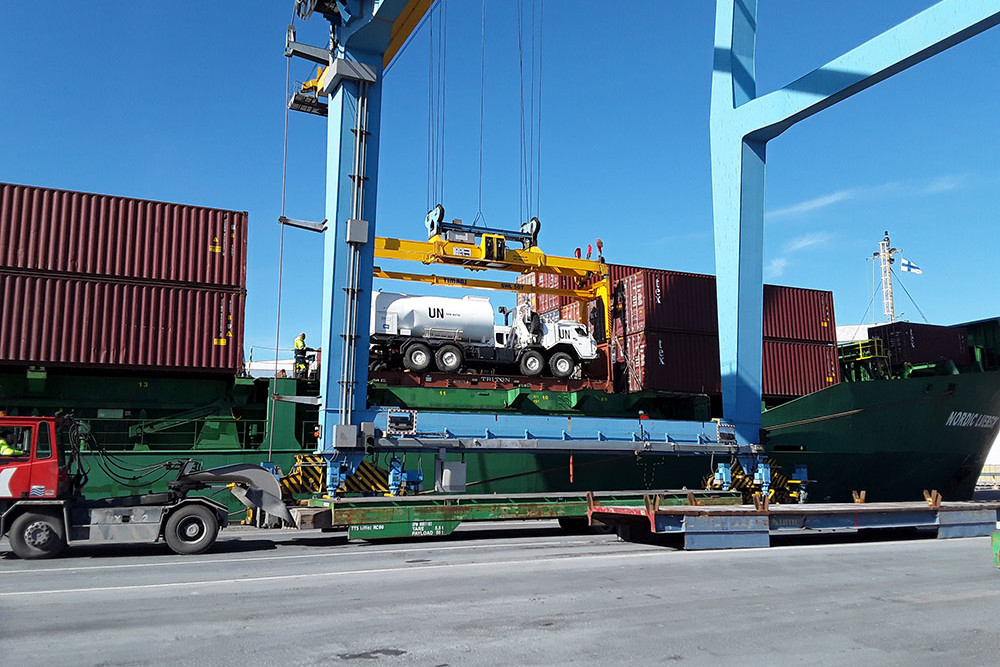 DEFLOG Crisis Response Concept
We excel in challenging and time-critical projects.
DEFLOG offers highly specialized logistics solutions for military and civil organizations operating in crisis and military areas. DEFLOG is a JetLogistics service concept, and it combines all the best qualities of three Wihuri Aviation business units. We have substantial experience in reaching nations in politically and geographically challenging terrain.
We can provide fast and reliable transportation services for troop rotations, medical evacuations, and extensive project cargo missions. We are one of the most experienced logistics providers to handle MoDs and the defense industry, and our services include all transport modes (air, road, rail, and sea shipments).
DEFLOG Solutions
Troop Rotations
We have experience in coordinating troop rotations that occur periodically. We enable competent, timely, and efficient support to the troops and handle troop transfers to the operational area with precision and care.
Use cases include Host Nation Support (HNS), RSOM support, UN peacekeeping operations, international exercises, deployments, sourcing, and procurement.
Medical evacuations
We have taken care of thousands of patient transportation on ambulance flights. We offer highly skilled and unrestricted medical evacuations worldwide and guarantee an unbroken chain of medical services. Our medical flight missions are EURAMI accredited and ready to take off with short notice, day or night, 365 days a year.
Use cases include, e.g., Medevac repatriations, critical care transports, ECMO- & isolation unit transports, and air transports of high-risk patients.
Project Cargo Missions
We are experts in challenging project cargo operations, with years of experience operating in exceptional circumstances. We offer all transport modes and can access a variety of aircraft, from small planes to the world's largest sky shippers or vessels of any size to fit the need. We make tailor-made solutions for any time-critical crisis.
Use cases include, e.g., Military logistics, dangerous goods, urgent deliveries, defense logistics, oversized cargo, door-to-door deliveries, and time-critical projects.
Wihuri Aviation: The operators behind DEFLOG
Wihuri Aviation is a leading supplier of aviation-related services in Northern Europe and is part of a large Finnish industrial conglomerate. The group comprises Jetflite (private jet operator), Euroflite (group charter operator), and JetLogistics (cargo and logistics services). Together, these services form the DEFLOG concept.
Our aim has been, and still is, to say yes to challenges most would give up on – be it destinations, schedules, or circumstances. We have qualifications as a Level 2 Vendor in the UNGM with approved & registered aircraft.
Contact information:
You can reach us 24/7
+358 20 510 1900
sales@jetlogistics.fi
UNGM Number: 516966